Our Lone Tree location near Park Meadows makes it too easy for us! Parking is easy and free and the RTD Light Rail passes right through Lincoln station which is only two blocks away from Creative Density. No matter what direction you're coming from, the light rail has a perfect view of the surrounding mountains. One of my favorite moments of the day is going and coming from work while I put my headphones in and decompress from the day as I look out onto the snow-capped Rocky Mountains.
If you choose to drive to work we have you covered! We make parking easy for you. There is an easily accessible parking lot right across from our location, free of charge! If you choose to bike, we also have plenty of storage space. We accommodate any type of travel to the office and encourage you to find the best fit for you. For me, I enjoy mixing it up between biking, light rail, and taking the car because it makes every day seem a little different.
Conveniently being located near Park Meadows Mall, the best mall in the state, Creative Density Coworking has access to all the hot lunch spots! My new obsession is Verde and Green for a quick pick me up smoothie and sandwich. This food truck offers so many healthy options all within a five-minute walk. We also really enjoy Clock Tower Grill located right next to Lincoln Station. This is a great spot to have a business lunch or enjoy an afternoon cocktail with your coworkers. Can't forget about Cranelli's Italian Restaurant steps away from our front door as well! Sometimes you just need to indulge in that midweek chicken parm, Am I right? In fact, a tour I gave last week mentioned it was his favorite Italian spot in the state. Not bad, right?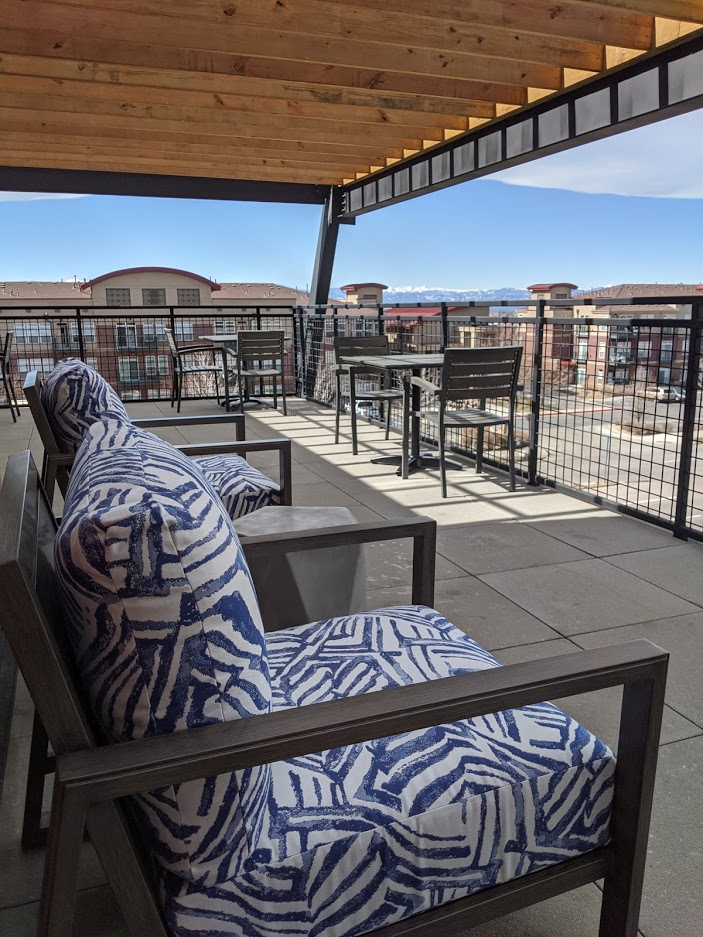 There are many other quick spots and dine-ins nearby, the options are endless! If you take lunch breaks seriously (as you should, have you read our blogs on work/life balance) or like to change it up from your packed snacks, we're positive you will find a few local spots just for your liking.

Creative Density Coworking here in Lone Tree is designed to be convenient. Whether you live in a neighboring apartment building or commute fifteen miles away or just love shopping at Park Meadows, we promise you will walk into your office space every day with a smile on your face (just look at our Instagram). We want to make life easy for you! A pot of craft coffee from Queen City Collective will always be there waiting. A comfortable patio overlooking the mountains will be calling your name. We've got everything you need to make your work experience better, no matter what brings you our coworking space. Working alone can be tough, but here at Creative Density, we have found the solution.
How to maintain productivity and mental clarity
With these hard times, remote working has become the norm. As we all adjust to these new working conditions adapting is a must! This can be extra trying with distractions that can run rapidly. From that TV show you have been waiting to binge-watch, to your kids having built up energy from being home all day, it is easy to not remain focused on your goals and tasks at hand. However, now is the time to implement a few strategies to best combat the distractions and maintain mental clarity and productivity. Below are a few tips I have found super helpful as I've had to adjust to staying and working from home!

Maintaining a Routine – Our minds may have switched to vacation mode which doesn't mix well with trying to stay motivated to work. Wake up around the same time you usually do for work! I normally wake up at 6:30 am for work but have been sleeping until 8 am which is perfectly acceptable. As long as you're getting up and out of bed at an appropriate time, you've completed step one! Next, do something productive rather than flipping through social media. I brew a cup of coffee and make my bed while I'm waiting. I think this helps set the stage for productivity throughout the day. Making my bed is very essential for me! If I leave it undone then it calls my name all day "Hey, don't I look comfy? Come get in" and that's all it takes for me to sink back in. Click here to find some more reasons to make your bed. Make note of the things in your house that are distracting and cover it. Trust me, it works. If you don't see it, you're less likely to think about it. As for bedtime, try to unwind around the same time every night. After all of this is over, we don't want to struggle to adapt back to our normal schedules. Stay consistent!
Duplicate your office working environment. I highly suggest having a dedicated area that you deem your "at home office" compared to something like sinking into your couch. For me, I need space only for work, nothing else. I have my small tiny work desk placed on an empty wall of my home that I only sit at while doing work on my computer or writing in my notebook. This dedicated spot helps me separate the rest of my home from work and helps my brain switch to work mode as I get easily distracted by household chores. We may all be struggling a bit to maintain productivity while our tv remotes and comfortable blankets are in reaching distance, but carving out a spot in your home solely dedicated to work will motivate you to sit down and get things done! Here are some ideas to help you create a suitable workspace at home!
Set time aside each day to clear your mind. This could be meditation, reading, salutations, playing with your children, bike rides, or walking your dog. This time should be effortless to let your mind breathe as you reflect on the day. I think it's really important to separate the days during this time and not let everything become a big mushy blur. We don't want to come out of this feeling as though we did absolutely nothing. Think about what has made the day different from the others. Ask yourself questions like, did you enjoy the day? Would you have done something differently? For the first time, we are being asked to slow down. Take advantage of it. As we reflect, we free up space in our minds. Tap into this new space as you use it to motivate productivity. Every single day you want to feel accomplished whether that means you finally uncluttered the garage or turned in a work deadline early.