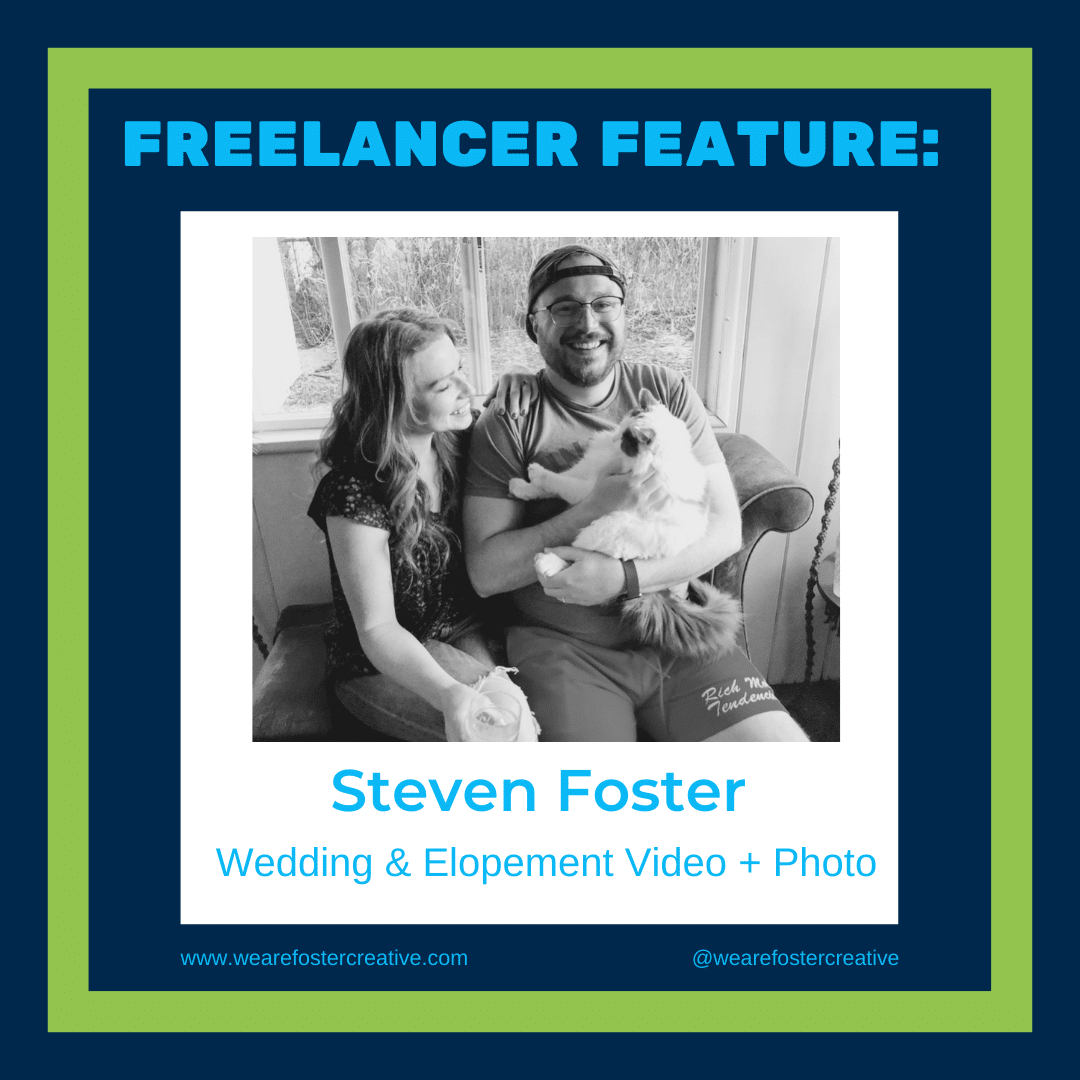 If you've been paying attention to our instagram, you've noticed we've been highlighting special freelancers in the Denver area who were kind enough to share with us how COVID-19 had affected their work and offered some sound advice to fellow hardworking freelancers. 
Steven Foster is an amazingly talented photographer who has been in the business for four years.  He owns We Are Foster Creative, a Wedding & Elopement Video + Photo company. Steven has been abruptly caught off guard with the decline in his business because absolutely no one is getting married due to COVID outbreak laws. It's a really unfortunate spring season for those with a wedding date and for those who depend on spring for their services. We feel so much for Steven and for the lovebirds who have to postpone. I was supposed to be a Maid of Honor in my sister's Parisian wedding this July, but we all continue to look forward to the future with this all over and we can go back sharing those special moments with family and friends. 
Although Steven is not booking much lately, he is keeping busy with winter edits as he's trying to prepare for the next few months. He's also selling some t- shirts! I know it's a different playing field for Steven now, but it sounds like he's adapting with the best attitude possible. As the whole world learns more  about COVID and its long term effects, Steven expects for his industry to be affected for at least the next two years. Once things go back to normal and weddings are permitted, he suspects business will be booming but physically taxing as he makes up for lost time by running  around to get three weddings done a week. Yeesh! He hopes that five years from now he can put these losses behind him, and Buddy we will be cheering for you! 
Regardless of having to rearrange his life and think about the future more than ever, Steven remains to keep his mind and body in check by enjoying the life we can still have. He shared with us " A wonderful wife, walking, good music, good food, and a little something extra to take the edge off" is his coping mechanism. Amen to that! Since COVID, it's hard to escape the overthinking and the worry but to maintain our mental clarity. We have to remind ourselves of the things that make us happy. For Steven, that's spending time with his wife over a home cooked meal while listening to their favorite songs. Their favorite go-to meal has been steak, or anything on the grill!  I feel that hard… I've been craving iron more than ever. Maybe due to the lack of dining out or my body is tired of me making the same cup of oatmeal everyday. It's nice to indulge in things that we considered a treat in the normal world in hopes to heighten each of these days a little extra. Although life is what it is right now and there's nothing much we can do, I try not to let myself settle. If I want that butter seared steak that I've never cooked before, I'll do it. It may not taste like the restaurants and be a little too crispy,  but at least I tried something new that day that makes it less ordinary. 
We asked Steven for some sound advice to pass onto fellow freelancers. He shared "We've all been through hard and uncertain times as freelancers, and this is yet another one of those times. Take care of yourself first, your family second, and trust yourself. Work will return and we will make it!" I think he's onto something there… take care of yourself first. We won't be useful to anyone if we aren't attending to ourselves. We are all being affected in different ways and need to figure out how to take care of that individually as everyone is different. We all require different forms of coping, so figure out what YOU need so you can be available for your friends and family. 
Thank  You Steven for sharing such great advice and opening up about your COVID struggles. Creative Density is rooting for you! If you are planning a wedding and need an insanely talented photographer, contact Steven. His instagram beautifully depicts his work. You can tell he captures the realness of each moment on such a meaningful occasion.
Check him out online at www.wearefostercreative.com 
His email is Steven@wearefostercreative.com
Instagram handle @wearefostercreative